Optimal efficiency
The Cata 6 was designed to be the most effective possible boat. Thanks to its cutting hulls and its electric propulsion system, Cata 6 is able to move without making waves and in silence. Cata 6 can follow a rowing race without disturbing the participants or fill missions of supervision of the marine biodiversity. Thanks to the cooperation between Torqeedo and BMW, Cata 6 has a technology in the highest degree in term of industrial safety.
The Swiss knife for lakes

Indestructible
The Cata 6 is composed of recognized professionals materials. Light, solid, sustainable and easy to maintain, marine aluminium is the indispensable choice for professional ships construction. Hulls are tight and divided what makes the buoyancy of the ship.

Clean
Electric propulsion bring a huge user convenience. It emits no gas, any smell and produces little noise. Moreover, the simplicity of the electric system reduces considerably the maintenance: no more drains, filters and small pieces replacement.

Performant
Rare are ships with such an energetic performance. The optimization of the hull allows to obtain a big autonomy and if necessary a high speed.
Industrial safety
Result of a strong collaboration between Torqeedo and BMW, the Cata 6 is equipped of a battery that respect every requirement of car industry. The Power 48 battery takes back lithium cells developed by BMW. Thanks to a BMV, it is constantly controlled in every modes of use: the refill, the discharge and the storage.
Characteristics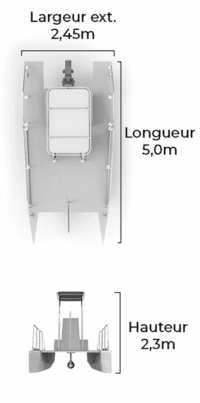 Main characteristics
Electric propulsion
Marine aluminium hull
Capacity of the boat of 5 people
Fully equipped weight 600 Kg
Performance
Torqeedo engine of 20hp
Maximum power of 12kW
Maximum speed 13 knots
Battery : i3 BMW 10 kWh
Autonomy : 1h at 13 knots
Autonomy : 13h at 3 knots
Power of recharge of 1,3 kW
10h for a full charge
Equipment
2 paddles
2 lockers
4 mooring bits
Manual cable steered
Console + Steering wheel
Cleats
Compass
Navigation lights
Compartmentalized and waterproof floats
Owner's manual
Aluminium non-slip floor
Anchorage
Mast of lifting
Be a precursor
Create to participate to energy transition, the Cata 6 offer comfort and security while beginning at a price of 45 000 € excluding taxes before bonuses.